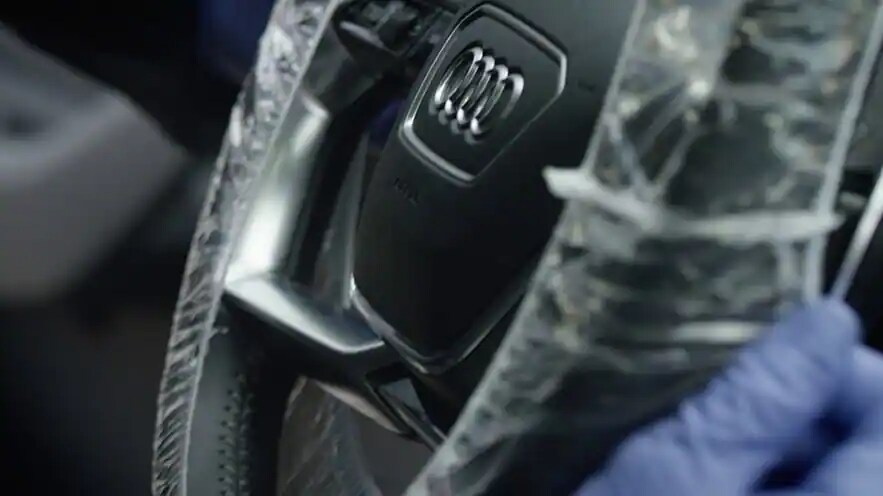 NOV 30TH, 2018
Moving forward, safely together.
The world is changing. We're committed to changing with it by making your customer experience as safe and protected as possible.
Explore the changes we've made at Audi Royal Oak.
Showroom
To keep your experience in and outside the dealership as safe as possible, enhanced safety measures have been put into place. Around the showroom, updated cleaning and disinfecting procedures have been put into effect for our service vehicles, demos and display units. While inside the dealerships, we've added social distancing protocols.
Appointment
New in-dealership distancing and cleaning protocols include a wipe down of the premises at regular intervals, with an emphasis on common touch points, limits on in-store traffic, and a revised floor plan.
Assessment
To help ensure safety at all times, your sales advisor is prepared to facilitate initial greeting and needs assessment over the phone, or through a video chat.
Vehicle presentation
Your sales advisor can also provide you with a tailored video presentation that addresses your primary interests.
Test drive
We now offer guided, unaccompanied test drives of properly cleaned vehicles. Alternatively, allow your sales advisor to remotely facilitate the same experience, after thoroughly preparing the vehicle for you.
Transaction
Discussions regarding the trade-in of your existing vehicle, the exploration of finance and lease options, and even the finalization of the transaction can either be conducted remotely or in a safe in-dealership environment.
Handover
Delivery of your new Audi can be facilitated at the dealership, home or a remote location.
Service
Booking
Book your service appointment online or by phone.
Arrival
When you arrive for your appointment, park your vehicle in our service drive. Handover your keys at the designated location.
Pick Up / Drop Off
A valet drop off and pick up service is available. Talk to your Service Advisor for availability and cost.
Cleaning
Vehicle will be cleaned and disinfected.
Servicing
Audi trained technicians will perform the required service, utilizing protective covers on the vehicle.
Communication
We will communicate with you throughout the day via phone, email or text to notify you when your vehicle is ready and to send your invoice and vehicle inspection report.
Completion
We will provide instructions on how to pay over the telephone, online, or with our sanitized debit/credit card terminal. Your keys will be sanitized when you pick up your vehicle.